There's something magical about an outdoor wedding in the summertime – vivid green grass, trees thick with leaves, and flowers blooming everywhere in sight. Warm weather in the Adirondacks signals a time of beginnings, of starting over; like a wedding itself, it's the start of something new and exciting. Ceremonies held in the great outdoors are rife with scenic possibilities, but since the date must be set and planned so far in advance, it's impossible to know whether the weather will cooperate. Instead of stressing about things out of your control, stay calm by focusing your energy on a few simple preparations. Embracing the rain can make for a unique and memorable wedding – and the chance for some gorgeous photos!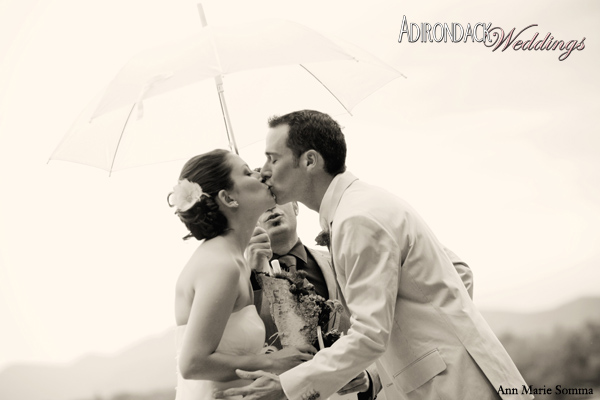 Taking cover. Umbrellas can add a beautiful touch to a wedding party. You might try a set in a variety of shades from your color palette to create an ombre effect, or perhaps a simple, clear style that creates dew-dropped halos around your bridesmaids and groomsmen. Want something with more impact? You could choose the gorgeous pink umbrellas pictured below
, or a similar design in purple
. Do you and your betrothed love Van Gogh? You could pick an umbrella inspired by "Irises"
or "Starry Night."
Depending on your choice, the effect can be whimsical, classically chic, or a little of both.
Booting up. If rain falls on the big day, your delicate designer heels probably won't stand a chance. Why not set them aside and slip on some Wellington boots
? With a matching set for the bridal party, whether in solids or bright prints, the end result is adorable, fun, and has a sense of humor. It says you laughed in the face of rain and made it work – with style.
Making up. Almost nothing is worse for makeup than a rainy day, but a little preparation can steer you clear of any mid-ceremony mascara streaks. Obviously, you'll want to have waterproof mascara
and waterproof eyeliner
, but you might also want to try using a lid primer
to secure eye shadow and/or a powder foundation
for a little extra staying power. On a drizzly day, modern make-up innovations are a girl's best friend.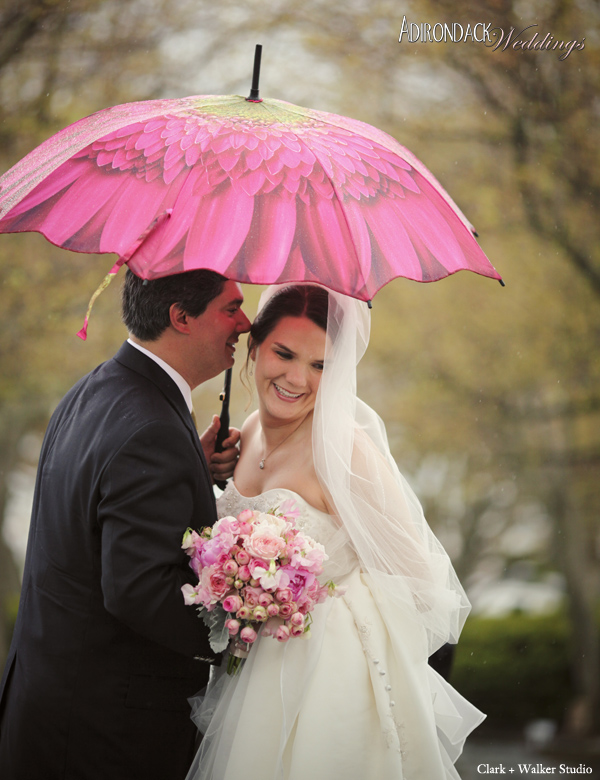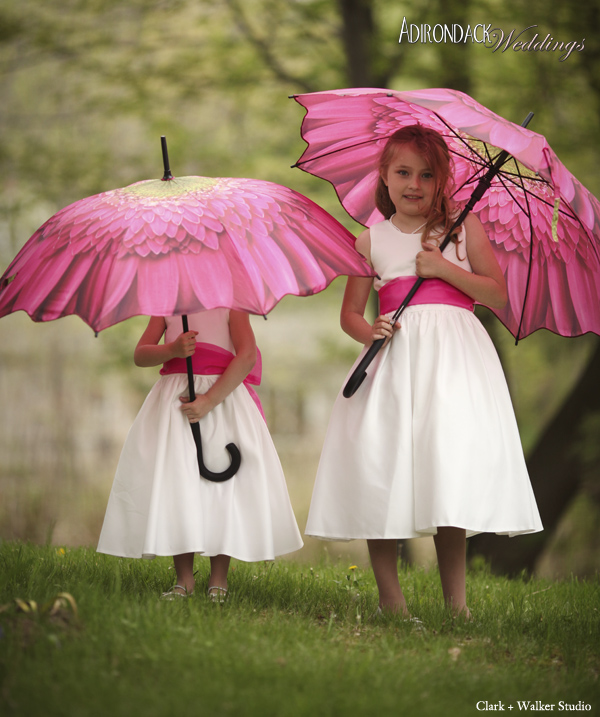 Getting the perfect shots. If you're planning an outdoor wedding, check in with your photographer ahead of time about the possibility of showers. Planning beforehand will alleviate some of the stress when you see a dreary forecast a few days before the ceremony. The possibility of adverse weather is all the more reason to hire a seasoned pro, not count on your brother's friend's cousin who once took a photography class in junior college. If your photographer is experienced with rain and otherwise well-prepared for a stormy shoot, you'll be rewarded with some truly gorgeous photos. With droplets catching the light and falling on cheeks, the photos are sure to be magical.
Taking no chances. Outdoor reception? Unless you have an indoor contingency venue, you're definitely going to need to rent a tent! Luckily, wedding tents are elegant and you can decorate the space to your heart's content, adding draping ceiling liners, flowers, and glowing strings of lights. You can't be too careful, however, so to be safe, consider purchasing wedding insurance. While a tent can protect your guests from heavy rain, in the event of a storm or hurricane or other disaster, postponing the wedding might be the safest route. After all, the safety of you and your guests must always come first! True love will certainly hold out a little longer.
Letting go. The most important asset for a rainy wedding is a good attitude. Like marriage, weddings involve surprises, adjustment, and compromise. Precipitation on your wedding day doesn't have to be a tragedy, especially when you're forearmed with a plan. After all, a chance of rain also brings the chance to implement your problem-solving skills. What if it snows in May, or if hail reigns down in October? That's not so bad — actually, it sounds like an event your guests will never forget!
— Story by Elizabeth R. Davidson
{Editor's note: Want more rainy day wedding tips? The topic of wedding day weather is so important that we published a story called "Rain or Shine" in our debut issue, still available for purchase right here on the website!}