Showering a bride and groom with a symbolic item is a practice with roots that go back thousands of years. In ancient Rome, wedding guests threw wheat in celebration of newlywed couples, which symbolized fertility. It also acted as a sort of bouquet-toss; little girls in attendance gathered up the grains for good luck in finding their own happy marriages. Many cultures have adopted a similar tradition, often substituting rice.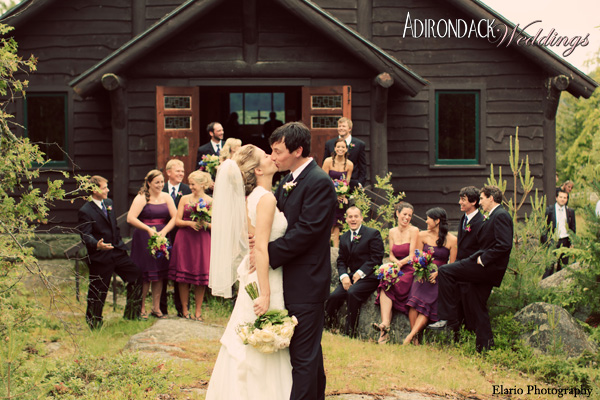 Would you like to be showered with something festive at your wedding? Feel free to do as the Romans did and use wheat, especially if you don't care to roll the dice with the Roman fertility gods. Bubbles are another go-to favorite, but there are many other fun options you might consider when choosing a makeshift confetti. These suggestions not only add a creative twist to your ceremony exit, they also set the scene for some beautiful pictures!
Lavender. Is there anything more refreshing than the smell of fresh flowers in spring? Already an ideal confetti shape and size, lavender is perfect for tossing and creates a fragrant shower of purple rain. Plus, with an all-natural confetti like this, there's no need to sweep up after! Nature will take care of it.
Rainbow sprinkles. Though you may lose a portion of the supply to your sweet-toothed guests, candy sprinkles (or "jimmies," as some people call them) will create a festive, colorful storm of sweetness. Skip these on a very hot day, however, because there's a chance they could melt just enough to bleed color onto the bride's wedding dress.
Helicopter leaves. We all remember playing with them as kids – those strange little propellers that spiral down from budding maples in the spring. Imagine leaving your ceremony under a shower of them, spinning delicately all around you. They could even be painted according to your chosen color palette, or covered in fine metallic glitter for extra effect.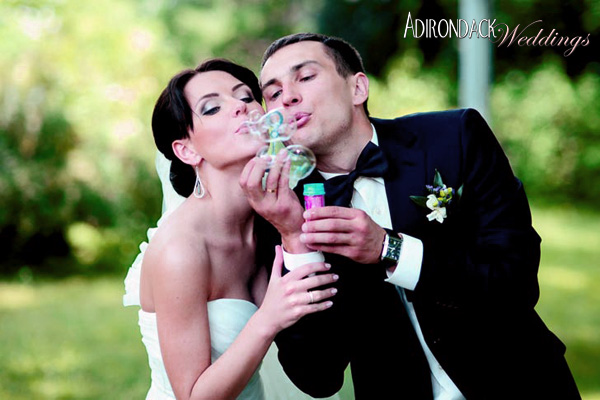 Glitter. This is perhaps the ultimate show-stopper. Have your guests blow glitter, found in any craft store, from their hands as you exit the venue, creating a sparkling blizzard. You could choose all silver for a enchanting, snow-like effect, or give out several colors to create a fun look that will get everyone in the mood for a great reception!
Fall leaves. What better way to celebrate the rich colors of fall at your wedding than to use fall leaves in your exit toss? Perfect for Adirondack weddings, this gorgeous confetti is also completely free! You could get your flower girls and ring-bearer involved by having them collect the leaves. Tell them to be sure to only pick the dry, top layer so that a damp leaf won't end up staining your fabulous dress!
Sparklers. Okay, so you don't want to throw these, but they'll look stunning as your guests hold and wave them when you exit, like your own mini fireworks show. For safety, you may want to have a barrier or defined path that your guests can stay clear of; we wouldn't want wedding attire set ablaze!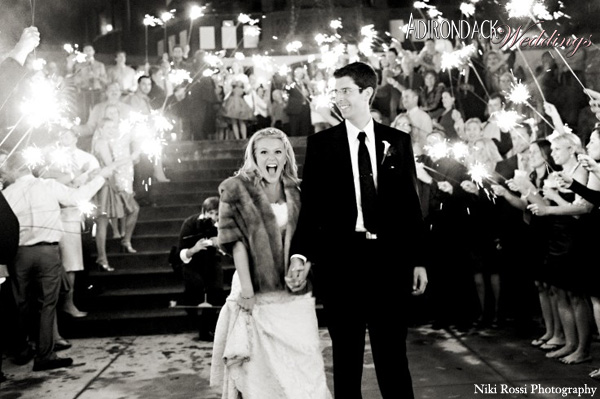 The exit toss is a special moment for newlyweds and guests alike. It's a time when the the seriousness of the ceremony gives way to a joyful celebration of the future. It's the moment when loved ones save words and simply cheer. Make that moment even more special with a meaningful confetti. If wheat brings fertility, you can decide for yourself what lavender and glitter bring – inner calm and great dance moves? Whatever your taste, make yours an exit to remember.
— Story by Elizabeth R. Davidson
{Editor's note: The top photograph, a stunning shot from Kristin and Adam Parker's wedding on Chapel Island on Saranac Lake, was featured in our debut issue!}