Heidi LaPoint, a native North Country girl—and Adirondack Weddings' first ever intern!—recently visited family in mid-Texas and was struck by the similarities between the two seemingly different regions. The Adirondacks represent one of America's farthest points north, and the state of Texas is one of America's farthest point south, yet common ground can be found in the rolling hills, the thriving farms, and a love of rustic, nature-inspired wedding details.
Much like the Adirondacks, "Hill Country," the prominent hills of Central Texas, is known for its rich history, hospitality, plentiful outdoor activities, and beautiful rustic weddings. Consisting of a whopping 25 counties that stretch from Austin to San Antonio, you might in fact say Hill Country is to Texas what the Adirondack Park is to New York State—a lush, green region that draws millions of tourists from all over the world.

Creatures & Culture. One of the best parts of both regions is the plentiful wildlife and farm animals that can be found within. Whether it's an Adirondack moose or a Texas longhorn, there's always a fascinating creature to look at in either locale. Camping, hunting, fishing, and other outdoor adventures are a way of life, and keep both tourists and year-round residents busy. The wineries in both areas are a popular choice for visitors, along with wilderness trails, nature centers, theaters, amusement parks, and museums.
"Small Town" Hospitality. Tourists in both regions often praise the friendly atmosphere. Tim McGraw couldn't have said it better in his hit, "Southern Voice": "It's, 'Hi ya'll, did ya eat? Well, come on in. I'm sure glad to know ya.'" That describes Hill Country hospitality in a nutshell, but the same warmth can be found in towns throughout the Adirondacks. In fact, when country singer Justin Moore performed at the Clinton County Fair in Plattsburgh in 2010, he told the audience how nice it was to find what's thought of as "southern hospitality" alive and well up here in the North.
Significant History. Both Hill Country and the Adirondack region were home to serious battles that helped shape our country forever. The Battle of the Alamo, which took place in present day San Antonio, was an important fight in the formation of modern America. In the 1820s, "El Alamo" was a fort controlled by Mexicans who had claimed their freedom from Spain. During this time, Texas-bound migration by Americans was becoming more popular. The Texan newcomers felt threatened by the Mexicans, so in 1835, 200 Texans seized the fort and gained control of The Alamo. Among these volunteers was famous frontiersman Davy Crockett.
Naturally, losing the fort didn't sit well with the Mexicans. On February 23, 1836, more than a thousand Mexican troops marched to the Alamo site in hopes to take back what was originally theirs. This thirteen-day battle was a major part of the Texas Revolution. Outnumbered and unprepared, the Texans bravely attempted to fight off the Mexican troops for as long as they could, under the impression that help was on the way. Help never did come, though, leaving no chance of survival for the Texans. Although they lost this specific battle, they earned a victory on April 26, 1836, at San Jacinto—near present day Houston—where 800 men defeated the Mexicans while yelling "Remember the Alamo!" Here, they captured General Antonio Lopez de Santa Anna, who agreed to end the war.
The Battle of the Alamo is reminiscent of The Battle of Valcour Island, which took place in 1776 on the Adirondack Coast of Lake Champlain. The story of this battle is featured in Volume 3 of Adirondack Weddings and was the site of our featured bridal shoot. Both battles were lost by a small, scrappy group of Americans who later found victory against stronger opposing forces.
The Alamo attracts more than 2.5 million visitors a year and is only minutes away from the San Antonio River Walk, pictured below. Valcour Island, which is accessible by kayak, canoe, or boat, has also hosted millions of visitors over the years.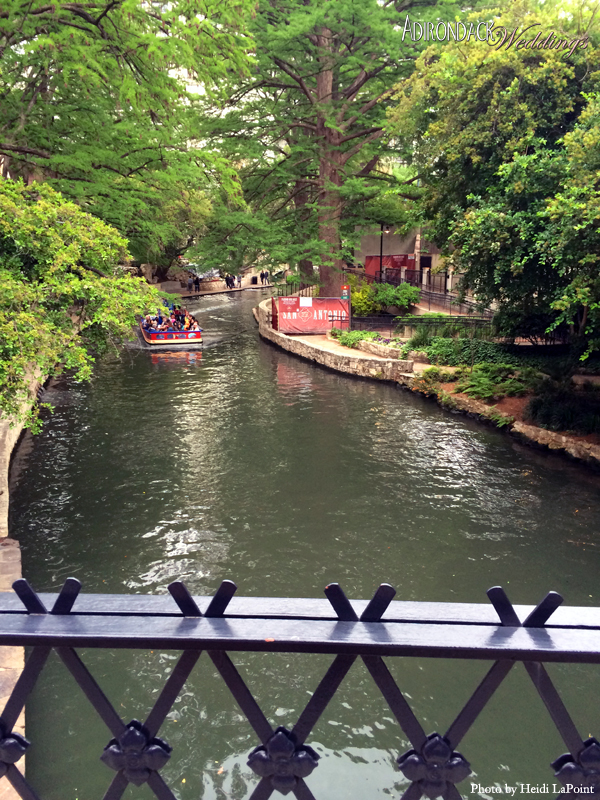 Rustic Weddings! Couples don't have to be history buffs to appreciate the beauty of these battle sites, and many opt to get married in venues overlooking the Alamo, or on the shores of Lake Champlain. The beautiful backdrops even draw celebrity weddings; country music superstars Miranda Lambert and Blake Shelton tied the knot in Hill Country in May 2011, while many stars of the silver screen eloped to the Adirondacks during the Gilded Age.
Not surprisingly, rustic chic weddings are common in both Hill Country and the Adirondacks. Cowboy boots have made their transition from traditional barn attire to glamorous wedding kicks in recent years. This trend may seem like an obvious one in Texas, where wearing cowboy boots and two-stepping to country music in local saloons is the norm. After all, Hill Country is home to a town called Bandera, the cowboy capital of the world. However, we have seen this trend occur more over the past couple years in the Adirondacks, and it has opened the door for brides adapting other southern symbols in their weddings, like mason jars, hay bales, tractors, old trucks, cowboy hats, and of course, horses. Likewise, the South has borrowed some of the Adirondacks' time-honored wedding details, such as wood slab plate charges, birch bark cakes, pack baskets, and pine cones. Other common country chic details in today's weddings include milk jars, barrels, and wooden crates.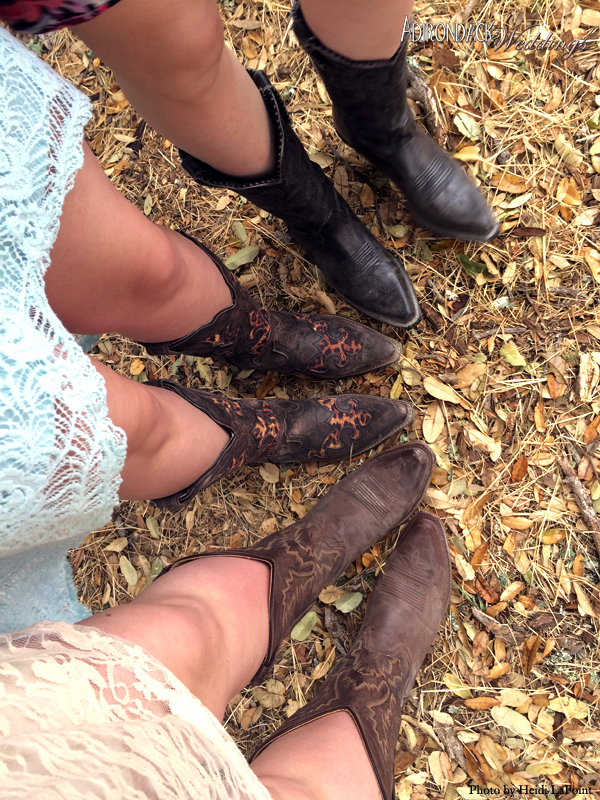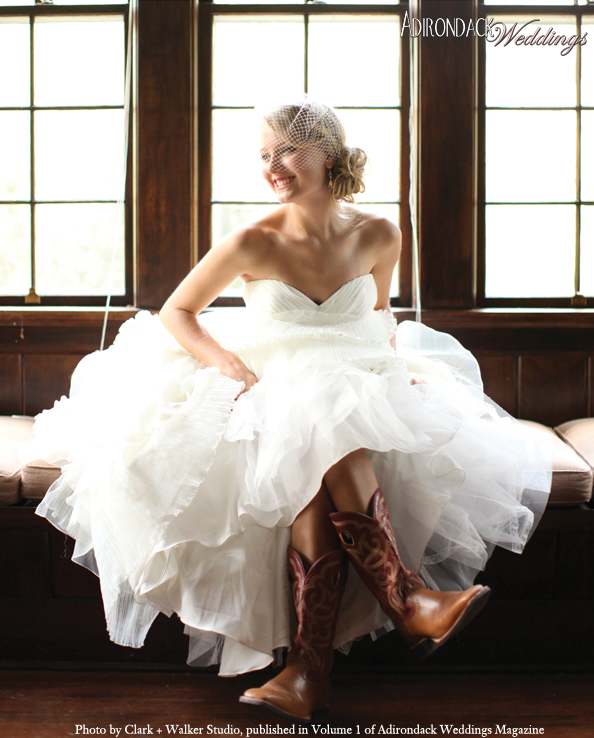 By combining and sharing wedding traditions, brides and grooms from the North to the South are creating gorgeous, nature-inspired celebrations like never before. Though we may be at opposite points of America, at heart, it seems we are not that different after all.
—Story and photos by Heidi LaPoint