After a delightfully warm September, autumn is officially upon us, meaning apple season is in full swing! Apple cider doughnuts are the second featured treat in our apple-flavored October series of recipes. These fall favorites are plentiful in local bakeries in upstate New York, but can you make them at home? We say yes! Whether as a bridal shower treat or a dessert for an intimate engagement party, the warm, comforting smells of cinnamon and apple spice will delight your guests. Create them as dough balls or pick up an inexpensive doughnut pan
and get started!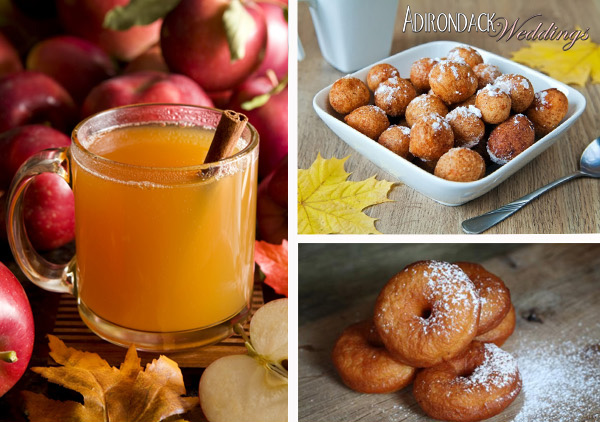 (Naturally, these doughnuts are even more delicious when enjoyed with last week's recipe, an apple cider signature cocktail!)
Prep time: 25 minutes
Yields a dozen doughnuts.
Ingredients:
• 2 Cups all-purpose flour
• ¾ Cups sugar
• 1 teaspoon baking powder
• 1 teaspoon baking soda
• 1 teaspoon salt
• ¼ teaspoon nutmeg
• ¼ teaspoon allspice
• ½ teaspoon cinnamon
• ½ Cup apple cider
• ¼ Cup applesauce
• 2 eggs
• 1 teaspoon vanilla extract
Directions:
1. Preheat the oven to 325 degrees.
2. In a large mixing bowl, add flour, sugar, baking powder, baking soda, salt, nutmeg, allspice, and cinnamon. Mix until well blended.
3. Add in the apple cider, applesauce, eggs, and vanilla extract. Beat for about 2 minutes until the mixture is smooth and creamy.
4. Lightly grease (you can use butter, margarine, or Crisco) a doughnut pan.
5. Pour batter into a large bag, seal the bag, and snip off the corner. This is the easiest and cleanest way to get batter into pan without dripping. Pipe the batter into the prepared pan.
6. Bake the doughnuts in the oven for 10-12 minutes (until they spring back when touched).
7. Take doughnuts out of the oven and cool slightly before removing from the pan.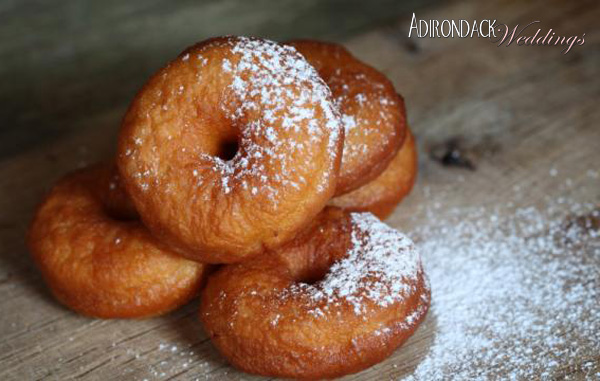 To make doughnut holes:
No doughnut pan? No problem. For a fun-sized snack, simply roll the dough into balls and place in rows on a baking sheet. Bake for 20-25 minutes. Sprinkle with confectioner's sugar and let cool.
Optional glaze ingredients:
• 2 Tablespoons apple cider
• 1 ¼ cup powdered sugar
• ¼ teaspoon allspice
• ¼ Cup sugar
• 1 Tablespoon cinnamon
Glaze directions:
1. Whisk together apple cider, powdered sugar, and allspice until completely smooth.
2. In another bowl, mix cinnamon and sugar together.
3. Dip each doughnut into the glaze (the top of the doughnut only), and then into the cinnamon and sugar mix. The glaze will run down the sides and coat nearly the whole doughnut. Allow to dry on a cooling rack.
Digging into this autumn recipe is a great start to fall festivities ahead. Even a quiet night at home is reason enough to enjoy this tasty treat. Stay tuned next Wednesday, when our October series continues with an original recipe for homemade apple crisp!
— Story by Anne Rathe