UPDATE 12/08/12: We've received dozens of emails asking where we bought our leaf-shaped muffin pan. We picked it up at a local shop, but we found the exact same one available on Amazon: Maple Leaf Pan
. We added links into the article as well. Enjoy!
With the holiday season upon us, it's officially time for warm fires, cozy sweaters, and holiday-inspired recipes to make and enjoy with loved ones. When Thanksgiving rolls around at the Adirondack Weddings test kitchen, we break out our leaf-shaped muffin pan
and start creating! Our pre-holiday bakefest yielded a tasty recipe for pumpkin bread muffins, which we slathered with a brown sugar cream cheese frosting to create leaf-shaped whoopie pies. To add some holiday "spirits" to the mix, we paired the treats with a delicious pumpkin pie martini.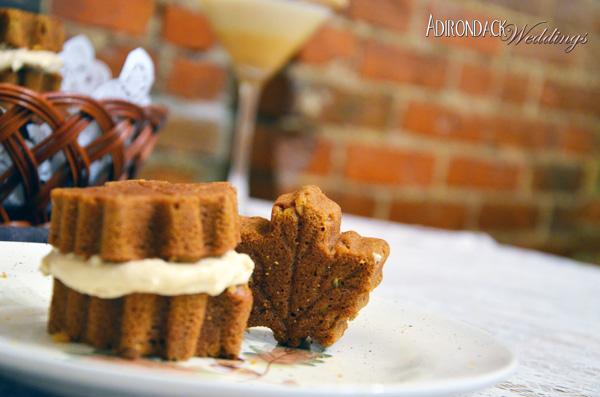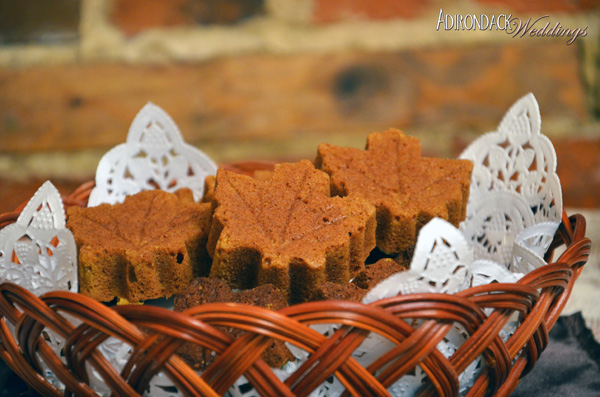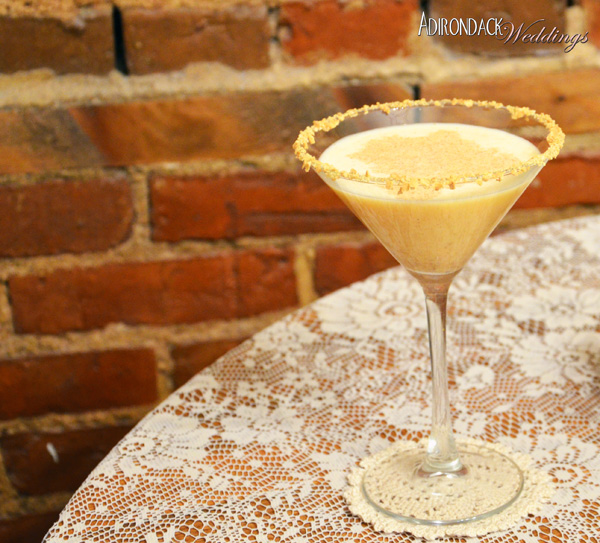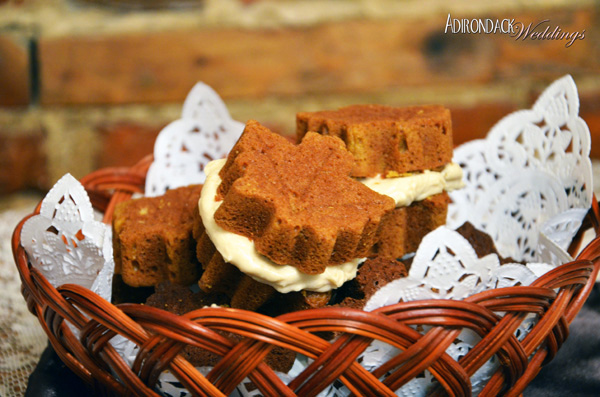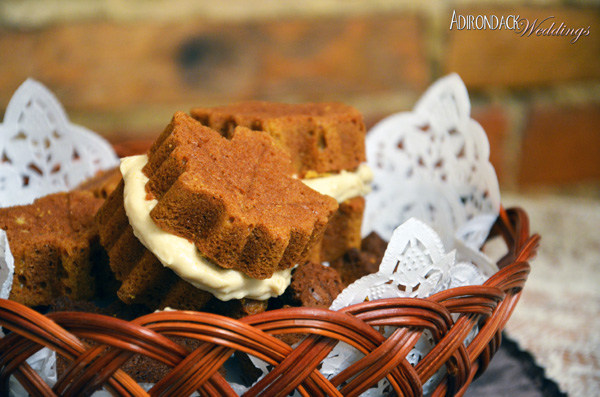 Pumpkin Bread Muffins
After whipping together the batter, bake it in traditional loaves (and spread the frosting on each slice like butter, yum!) or pour it into muffin pans, such as our leaf-shaped muffin pan
, to create whoopie pies or cupcakes.
3 cups all-purpose flour
2 cups granulated sugar OR brown sugar
1 cup melted butter
3 large eggs (3 will create a fluffier, cakelike loaf; use 2 if a denser bread is preferred)
1 can of pumpkin filling (16 ounces)
.5 teaspoon ground cloves
2 teaspoon ground cinnamon
1 teaspoon ground nutmeg
.5 teaspoon of ginger
.5 teaspoon salt
1 teaspoon baking soda
.5 teaspoon baking powder
Optional: pecans, walnuts, chocolate chips, or whatever strikes your fancy!
1. Preheat oven to 350 degrees. In one medium bowl, mix the flour, baking soda, baking powder, cloves, cinnamon, ginger, nutmeg, and salt.
2. Melt the butter in the microwave (30 seconds should do it). In a separate bowl, combine the butter, sugar, and eggs. Cream together with a mixer on medium speed for about two minutes. Add the pumpkin and blend.
3. Beat in the dry ingredients in three batches, mixing until each batch is fully blended.
Scrape down the sides between each batch. Mixing by hand, add any desired optional ingredients, such as pecans or chocolate chips.
4. Prepare two medium loaf pans or two muffin pans by spraying with nonstick cooking spray.
5. Pour the batter into the pans and bake both on the middle rack for about an hour. The finished product will be a light golden color.
Brown Sugar Cream Cheese Frosting
This easy recipe is relatively low on sugar, which brings out the flavor of the cream cheese. Want a sweeter frosting? Add another cup of sugar–either confectioners' or brown, the choice is yours!
8 ounces cream cheese
1 stick butter (room temperature)
2/3 cup confectioners' sugar
1 cup brown sugar
.5 teaspoon pure vanilla extract
With an electric mixer, beat together the butter and cream cheese until fluffy, then blend in the vanilla and sugar. When the muffins are cool, spread it on and enjoy!
Pumpkin pie martinis
This drink can be made with pumpkin pie filling, or for an even more authentic taste, with leftover chunks of actual pumpkin pie. No pumpkin on hand? Check your spice cabinet for something called pumpkin pie spice, which makes a great substitute. If there's none to be found, nutmeg will provide a similar flavor.
2 oz vanilla vodka
2 oz creme de cacao
1/3 cup half and half
2 tablespoon pumpkin pie filling
1 teaspoon pumpkin pie spice or nutmeg
1 graham cracker, crushed
1 teaspoon honey
Optional: cinnamon stick, whipped cream
1. Crush the graham cracker and disperse the crumbs on a plate. Line the rim of a martini glass with honey, then tip the glass upside down and press gently onto the crumbs.
2. Blend the pumpkin and half and half. Fill a shaker with ice and add the vodka, creme de cacao, and pumpkin/half and half. Shake well, then strain into the martini glass
3. Add optional garnishes, such as pumpkin spice, whipped cream, or a cinnamon stick.
Happy Thanksgiving!