If you're anything like us here at Adirondack Weddings, you might find that time before the holiday season seems to fly by faster each year. Luckily, there's still time to score fabulous gifts for your sweetie at your favorite local shop or online retailer. Here are 15 of our favorite gift ideas for engaged and newlywed couples.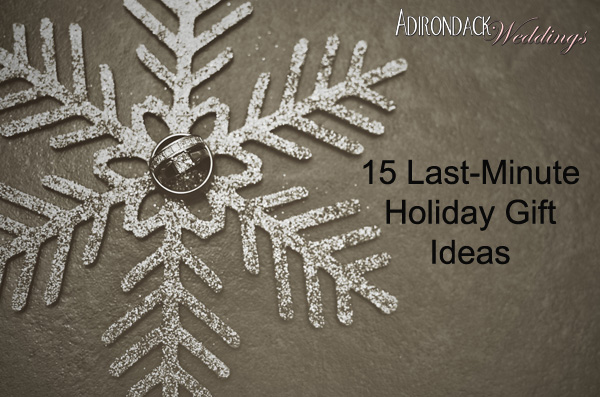 Traditional and romantic
1. Decorative mistletoe
makes a fantastic Christmas Eve gift. Wrap it up or simply hang it above a doorway and reveal its presence with a surprise kiss.
2. Ornaments are an inexpensive and romantic way to commemorate the holiday, whether it's your first or your fiftieth holiday together. Purchase a quirky ornament he'll love, such as this "Back to the Future" DeLorean
, go traditional with this 24k Gold Plated Reindeer & Sleigh Ornament
, or celebrate Adirondack pride with a real preserved gold Sugar Maple Leaf Ornament
. Alternately, whip out the glitter and Popsicle sticks and create your own!
3. Luxurious bedding can make newlywed breakfasts in bed even more comfy and delightful. Try Egyptian cotton 1200 thread count sheets
, or for a more affordable option, a satin sheet set
.
4. Snowflake necklace for her—or snowflake cufflinks for him—are a great way to accessorize while celebrating the season. Laura's favorite necklace is a white gold filigree snowflake from Darrah Cooper Jewelers in Lake Placid. (Stop in if you're local!) If you're stuck behind a computer screen and can't make it in person, we also like this diamond snowflake jewelry set
from Amazon.
5. A personalized gift basket will always hit the mark, whether it's an assortment of lavender bath products
, or a sampling of delicious designer chocolates
. If a pre-packaged option doesn't fit the bill, purchase a pretty basket
and make it yourself! Wrap it all up in cellophane
and voilà!
6. Also on the jewelry front, if your sweetie is hard to please, you can't go wrong with 14K White Gold Diamond Stud Earrings
, a perennial favorite for wedding day wear. Locally, check out Kneucraft Fine Jewelry & Design and ask Shawn about three-pronged versus four-pronged designs.
"Experience" gifts
7. Camping equipment is a perfect gift for an Adirondack lover, whether it's a large dome tent
, bear-proof food container
, or pink Waterproof Timberland boots
. The best part of this kind of gift is that it comes with the promise of future adventure!
8. Snowshoes
or Lake Placid Glider ice skates
. When you live (or vacation) in these parts, winters are just as fun as summer. If you've always wanted to learn but don't know how, there's no time like the present.
9. If your betrothed is a music lover, instead of a latest MP3 player, consider splurging on an old-fashioned record player, such as this Crosley turntable
, along with a selection of vinyl. (Does it get much cooler than that?) Make it an experience gift by including a homemade voucher promising an evening of dinner and dancing in the living room
.
10. For movie lovers, along with a favorite DVD
or a TV boxed set
, toss in marshmallows and a hot cocoa mix
, which will round out a romantic evening at home.
11. If you've never had professional photos taken, book a session with a local photographer. Skip the cheesy portrait studio package and instead explore our vendor directory and the pages of Adirondack Weddings Magazine to find a photographer whose style you love!
Gifts that keep on giving
12. A gift-of-the-month club or subscription-based gifts will delight your sweetie year-round. Try a Cookie of the Month Club for 6 Months
, a Gourmet Bacon of the Month Club
, a Gourmet Cheese of the Month Club
, or even a Hot Sauce of the Month Club
.
Inexpensive and homemade
13. Create a coupon book for your better half and include all of the things that you know they love. Make coupons for massages, breakfasts in bed, pancakes at midnight, early morning coffee runs, scary movie nights
—whatever it is you know they'd appreciate and enjoy.
14. Want to show your guy or girl how much you adore them? Make your own "52 Things I Love About You" booklet with just a deck of cards, white paper, tape and a marker. Punch two holes through the cards, bind them with large rings and attach a note to the back of each one that expresses something you value in your sweetheart.
Wedding planning
15. Last but not least, if you don't yet have both copies of Adirondack Weddings Magazine, you can still order in time for Christmas! Now through the holidays, we'll ship out no later than the next business day for all orders placed by midnight. (We ship by USPS Priority mail, so understand we are at the mercy of the postal service, but we'll do our part in getting orders out the door.)
Feel free to add further gift ideas in the comments section! Perhaps your beloved desires a three-stone diamond ring that costs as much as a starter home
or something completely practical, like wool socks for the chilly days ahead
. Whatever the case may be, happy shopping and happy holidays!
—Story by Lindsay Pietroluongo, contributor to Adirondack Weddings, and Laura Ward, editor of Adirondack Weddings. Snowflake photo by Greer Cicarelli Photography. Story updated November 20, 2014.