Adirondack storefronts decorated with passionate pinks and romantic reds can mean only one thing — Valentine's Day is quickly approaching! Local retailers are the perfect place to find greeting cards, candy hearts, and plush stuffed animals. As that magical date of February 14th draws ever nearer, we have a few further suggestions for gifts your valentine will treasure, from homemade creations to traditional favorites.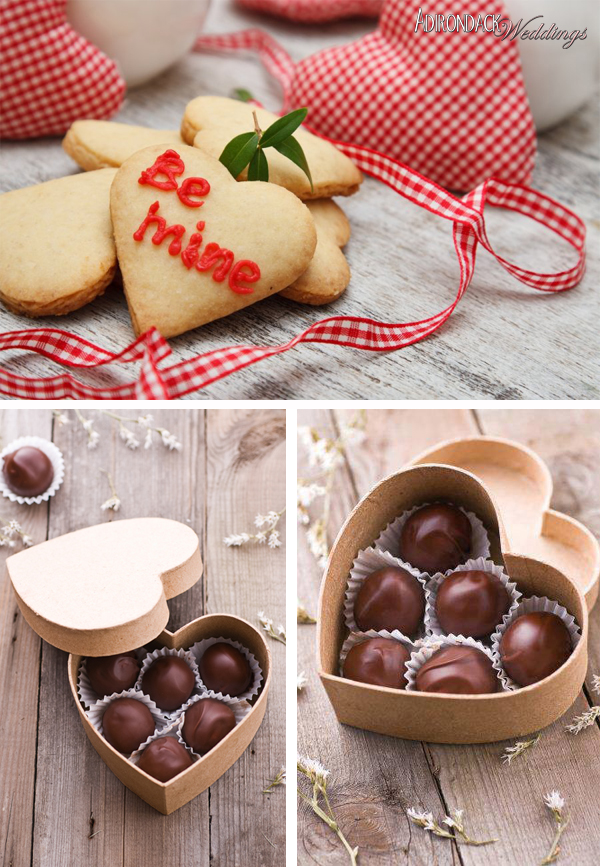 Inexpensive & Romantic
1. Make sure date nights are a must year-round by buying a calendar you and your partner would like and filling it in with dates each month when you are both free! Remind your love that summer is (eventually) coming with this 2016 Secret Garden Wall Calendar
. In addition, there are large boxes for filling in multiple engagements in a single day on this adorable Lang Love of Cats Wall Calendar
.
2. Breakfast in bed is a classic option for surprising your sweetie, especially when you're looking for a gift idea that won't break the bank. But instead of doing the regular pancakes-and-bacon thing, use a love theme for their breakfast. Make them toast and use this heart-shaped cookie cutter set
to cut a heart shape out of the bread. Then, pop it into a greased frying pan turned on medium-high heat and crack an egg into the heart-shaped hole. The result? A breakfast perfect for Valentine's Day. Serve it up with some fruit and mimosas, and your partner will be thrilled.
3. Avoid overpriced movie tickets and concessions and have a special V-Day movie night at home. Redbox rentals are only a dollar, and this Orville Redenbacher movie theatre-style buttered popcorn
is (nearly) as good as the theater's! Lindt Valentine Lindor Truffles
are also sure to satisfy your valentine's sweet tooth.
4. Jewelry is a pretty standard gift when it comes to Valentine's Day, and for good reason! Head to one of our favorite local jewelers to check out their selection. Perhaps you'll find something like these lovely Heart-Shaped Amethyst Stud Earrings
, which are perfect for Valentine's Day because amethyst (a pretty purple hue) is February's birthstone!
5. Toss on an apron and have some fun in the kitchen! Bake cupcakes for your valentine and decorate them by dying your frosting pink or red and adding these cute jumbo hearts sprinkles
.
Sweet & Amorous
1. Want a romantic night at home? This Yankee Candle
will do the trick. Turn the lights down low, draw a bath for two, and enjoy the scent of flowers as you wind down with your loved one.
2. Romantic scents your valentine can wear are sure to spark some Valentine's Day closeness. Try this Pink Sugar by Aquolina Eau De Toilette Spray
for your lady or this Burberry men's Eau de Toilette
for your man.
3. Gifts for the techie lover can be tricky since most electronics are constantly going up in price. Try getting your gadget-loving sweetheart an accessory for their current device or upgrade their existing model. This 32GB memory card
is perfect for the photography lover on your Valentine's Day list!
4. Pick up your valentine's favorite bottle of champagne and enjoy a glass or two with them in these 2 red heart champagne flutes
. Make a romantic toast to them and include a back massage after, and they are sure to "be yours" forever!
5. The sounds of love are in the air! Give your sweetie a CD of romantic tunes by an artist they like. John Legend's album Love In The Future
is sure to set an amorous tone for the night as well as Tony Bennett's Duets II
album.
Finding that special something for your special someone can be tricky, but we hope our list has helped inspire you. If you have further ideas, feel free to list them in the comments below. Best of luck in your shopping adventure!
— Story by Anne Rathe