One of the most rewarding parts of creating a new product, especially an artistic one, is having the ability (and privilege) of sharing it with the world. We are lucky to have a network of awesome newsstand distributors that get Adirondack Weddings into stores both near and far. The magazine can be found on shelves in 13 states and Canada! Here's just a partial list of store locations. Our retailers include Barnes & Noble, Rite Aid, Price Chopper, Hannaford, Kinney Drugs, Wegmans, Weis Markets, Big M, Mac's, and so many more.
At most stores, copies of our annual magazine are continually replenished year-round. Cool, huh? On Friday, we decided to go on a "newsstand hunt" to check on our latest wave of copies sent to shelves. While we only checked in Plattsburgh, the results should be fairly representative of current availability, particularly at our chain locations throughout New York State.
Yando's Big M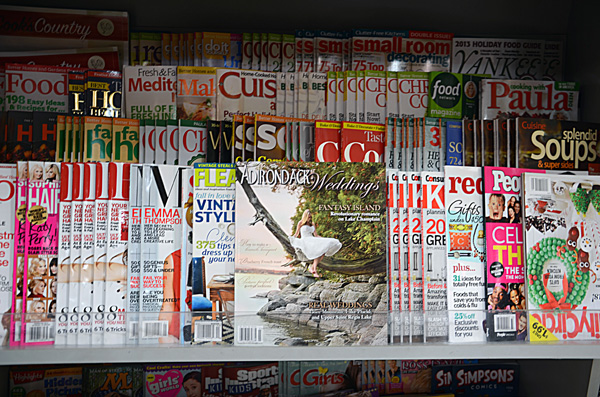 Above, the magazine is pictured at Yando's Big M in Plattsburgh, which is located in the plaza off of US Avenue, near the old Air Force Base.
Hannaford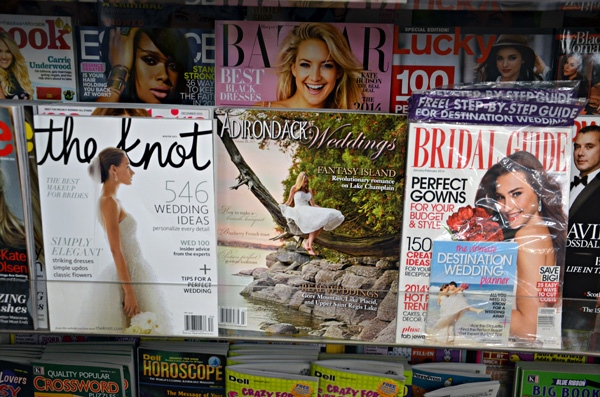 Above, the magazine is pictured at Hannaford. Big grocery store chains like Hannaford and Price Chopper tend to stock a TON of copies, so they are usually a good bet when you're trying to score the latest issue.
Shell on Cornelia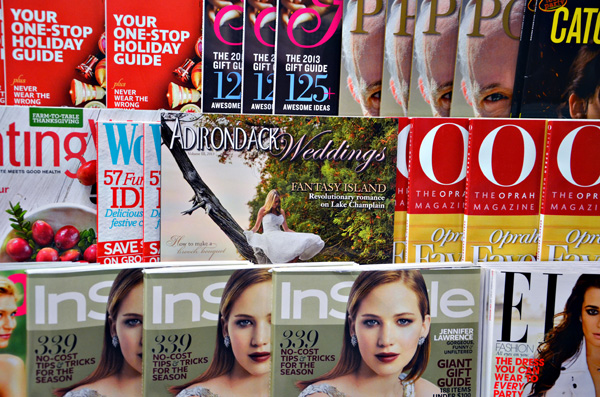 Above, the Shell station on Route 3/Cornelia Street, between the Wal-Mart plaza (Consumer Square) and Price Chopper plaza. This little store has a surprising number of different magazines!
Kinney Drugs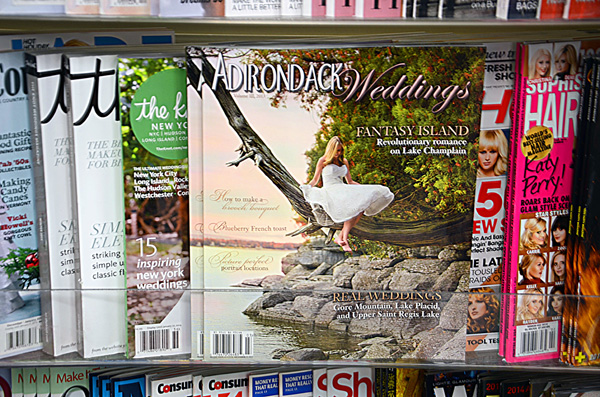 Pictured above, the magazine at Kinney Drugs. In Plattsburgh, the magazines can be found on shelves in 3 locations: Upper Cornelia, 1588 Military Turnpike, and 112 New York Road (near the old Air Force Base). Below, the issue at a second Kinney's:
We love receiving photos of the magazine on shelves, so if you see it while you're out and about, feel free to send us a snap! Of course, stores only stock the most current issue, so if you've missed any, you can pick them up right here on the website. We will eventually sell out of back issues, of course, and in 50 years, they will most certainly be collector's items. (How amazing would it be to look at a whole magazine of Adirondack weddings from 1963? Well, there wasn't a magazine then, but there is now. You're welcome, 2063!)
Good luck in your newsstand hunting, and feel free to share any spottings of your own!