As winter continues its long, icy stay in the Adirondacks, we're using this Recipe Wednesday to share one of our favorite winter comfort foods: banana bread! This moist, flavorful loaf is ideal for a romantic breakfast in bed. Serve with some fresh berries and a pot of artisan roast coffee, and start the week off with a relaxing Sunday morning with your loved one.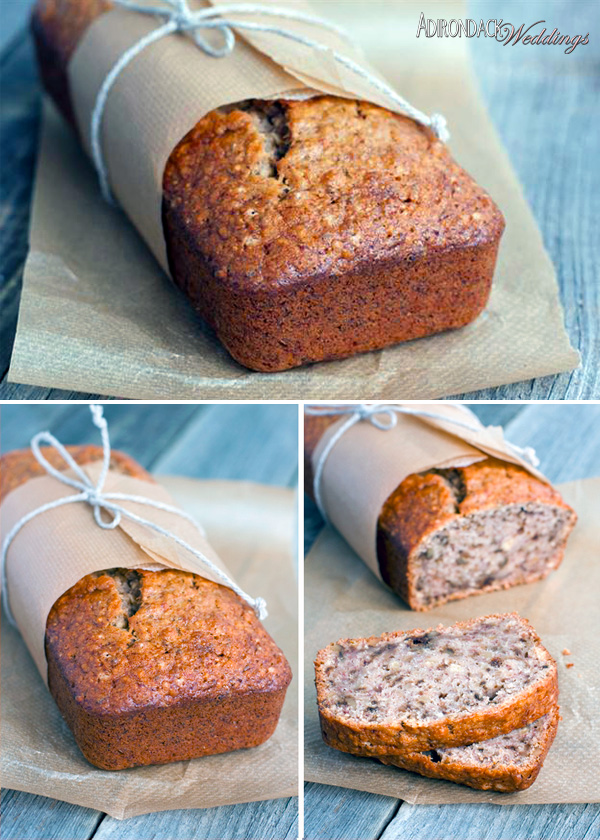 Ingredients:
• 1 1/4 cups sugar
• 1/2 cup butter or margarine, softened
• 2 eggs
• 1 1/2 cups very ripe bananas (3 or 4), mashed
• 1/2 cup buttermilk
• 1 teaspoon vanilla extract
• 2 1/2 cups all-purpose flour
• 1 teaspoon baking soda
• 1 teaspoon cinnamon
• 1 teaspoon salt
• 1 cup chopped nuts (optional)
Directions:
1. Move oven rack to low position so that the top of the pan will be in center of oven.
2. Heat oven to 350°F. Grease bottom of only one (roughly 9″ x 5″)loaf pan.
3. Mix sugar and butter in large bowl. Stir in eggs until well blended.
4. Add bananas, buttermilk and vanilla. Beat until smooth.
5. Stir in flour, baking soda, cinnamon, and salt just until moistened.
6. Stir in nuts and pour mixture into pans.
7. Bake about 1 hour, or until toothpick inserted in center comes out clean.
8. Cool 10 minutes. Loosen sides of loaf from the pan; remove from pans and place top side up on wire rack.
9. Cool completely, about 2 hours, before slicing. Wrap tightly and store at room temperature.
The spiced cinnamon smell of this treat, coupled with the dense yet soft texture, will warm you from the inside out. And when Monday comes around (as it always does, unfortunately…), you'll have some yummy leftovers to wrap up and take with you to work! Store for up to 4 days on your counter-top or for up to 10 days in the fridge.
— Story by Elizabeth R. Davidson