Searching for delicious bite-sized hors d'oeuvres to serve at your Adirondack wedding? These cream-filled puff pastries are a little taste of heaven! Serve alone or pair with berries, whipped cream, and a glass of champagne. Serve in between the dinner course and the wedding cake to ensure that you and your guests will have no trouble clearing these sweet morsels off the plate.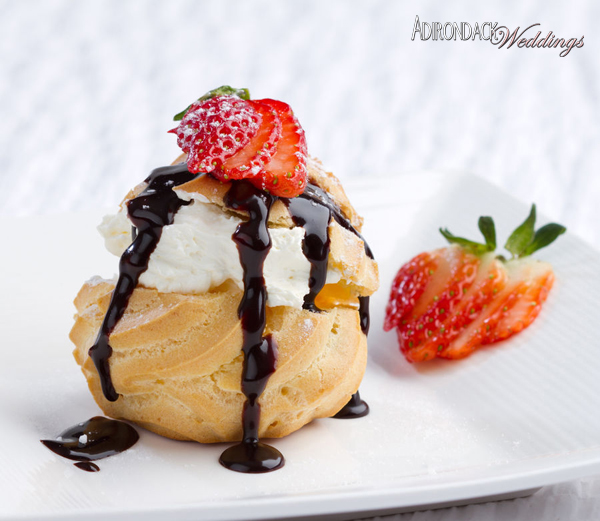 Yields 20-25 cream puffs
Ingredients:
For the cream puffs…
• 2 (3.5 ounce) packages of instant vanilla pudding mix.
• 2 cups heavy cream
• 1 cup milk
• ½ cup butter
• 1 cup water
• ¼ teaspoon salt
• 1 cup all-purpose flour
• 4 eggs
For the chocolate sauce..
• 2/3 cup unsweetened cocoa
• 1 2/3 cups white sugar
• 1 ¼ cups water
• 1 teaspoon vanilla extract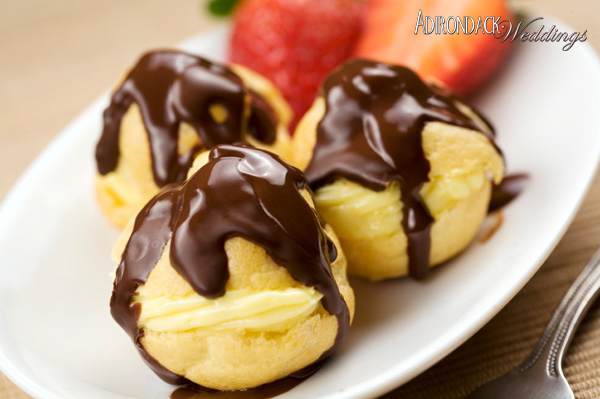 Directions:
1. Preheat oven to 425 degrees Fahrenheit (220 degrees Celsius).
2. Mix together the vanilla instant pudding mix, cream and milk. Cover and refrigerate to set.
3. Bring water and butter to a rolling boil in a large pot. Stir in flour and salt until the mixture forms into a ball.
4. Transfer dough into a large mixing bowl. Beat in eggs one at a time using a wooden spoon or stand mixer. Drop tablespoons onto an ungreased baking sheet.
5. Bake for 20-25 minutes in the preheated oven, until golden brown. Centers should be dry.
6. When the shells are cool, either split or fill them with the pudding mixture, or use a pastry bag to pipe the pudding into the shells.
7. For the chocolate sauce, mix together cocoa, sugar, and water in a medium saucepan over medium heat. Bring to a boil and let it boil for 1 minute. Remove from heat and stir in vanilla.
Because each cream puff is small, this makes a great end-of-meal option to tide guests over until it's time to cut the cake. Short on time? Substitute the homemade chocolate sauce for store-bought. Whether you're preparing these cream puff for a crowd, or simply sharing them with your beloved, they're sure to be a winning treat!
— Story by Anne Rathe