Happy Independence Day! To celebrate American pride, we've been hard at work in the Adirondack Weddings test kitchen perfecting recipes that can be used to throw a spectacular Fourth of July party: a Stars & Stripes Cocktail and a Patriotic Pound Cake. Best of all, these vibrant creations can be tailored to your wedding's theme and colors, no matter the time of year. We packed up our results to enjoy during a picnic on Lake Champlain, choosing a panoramic spot that boasts stunning views of our Adirondack Mountains to the west and the Green Mountains of Vermont to the east. Scroll on through this blog- exclusive photo shoot for the recipes and to discover one of our favorite local sources for props and vintage treasures.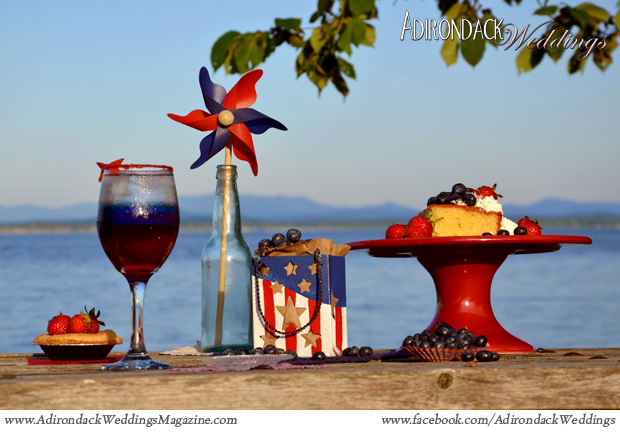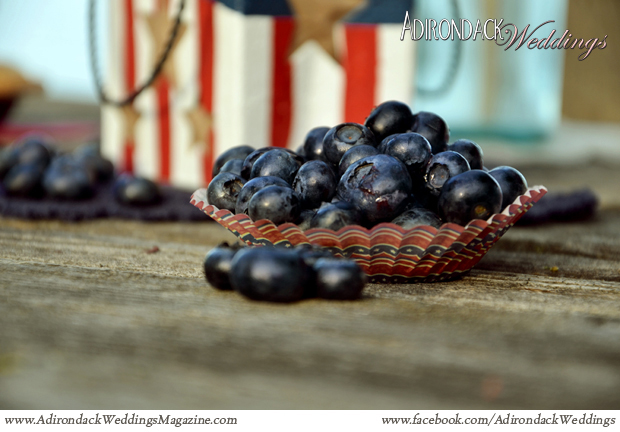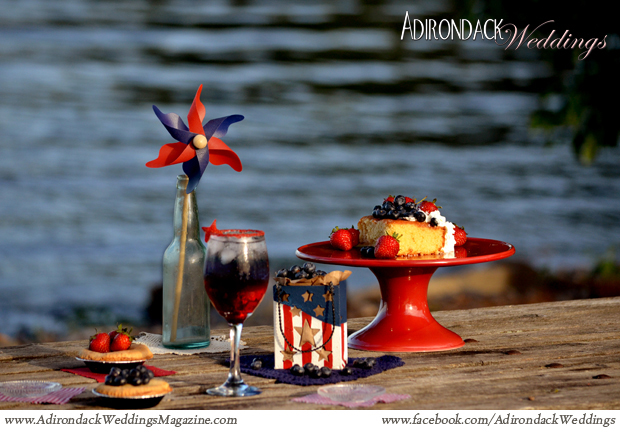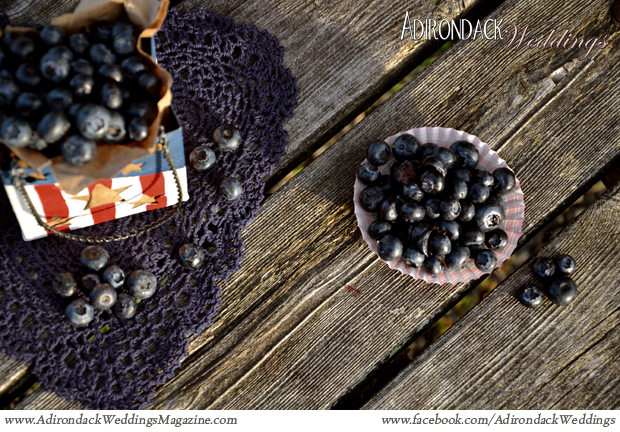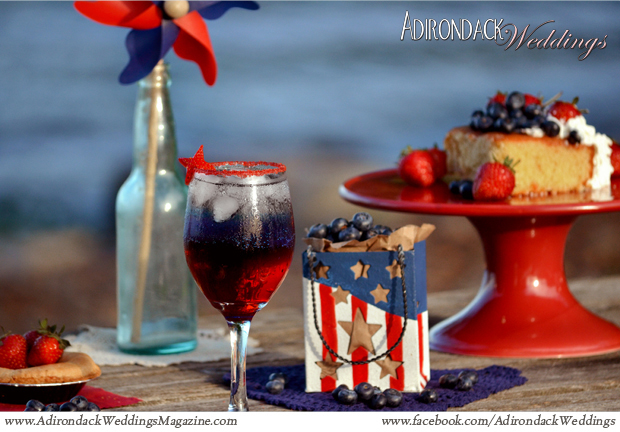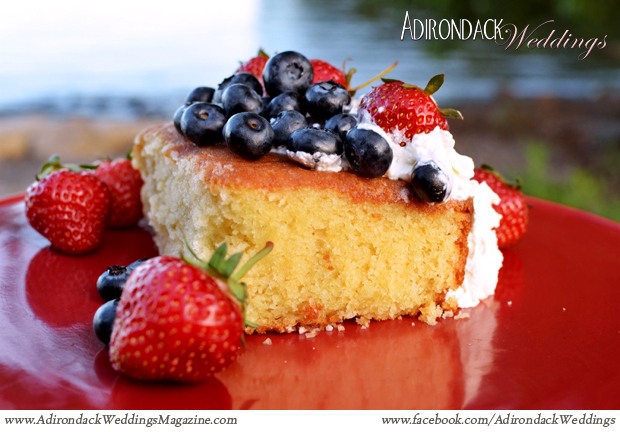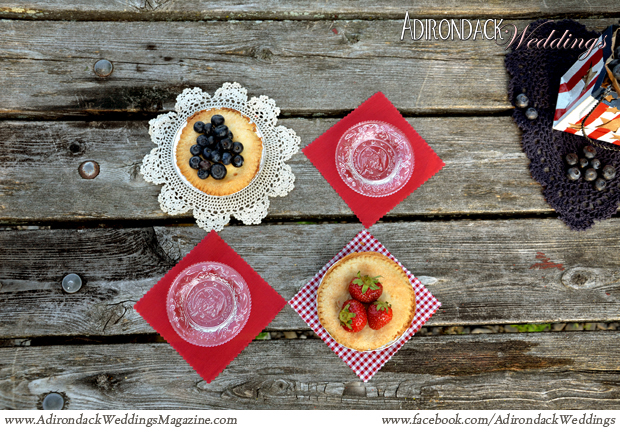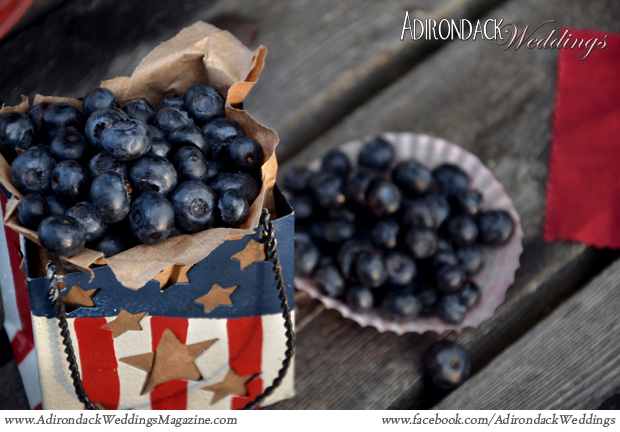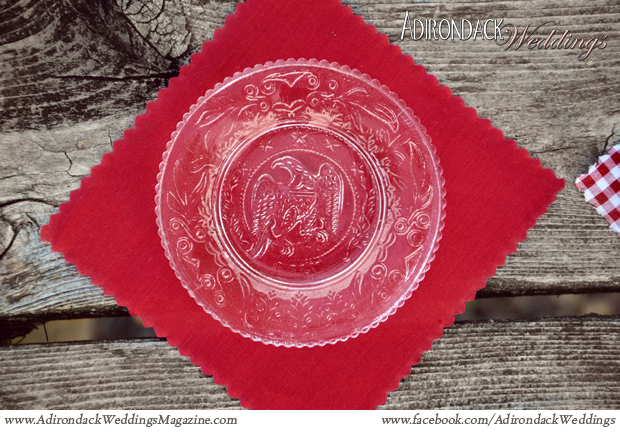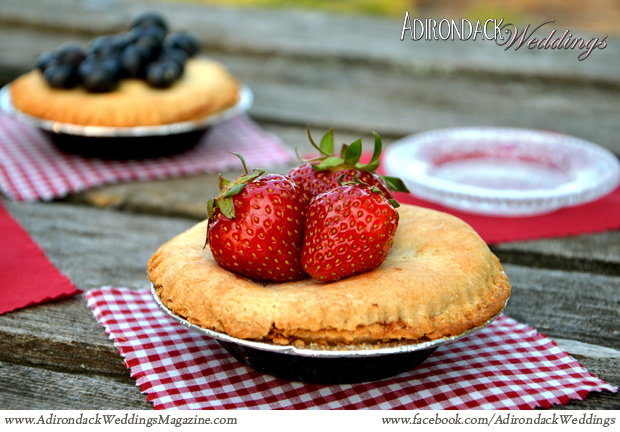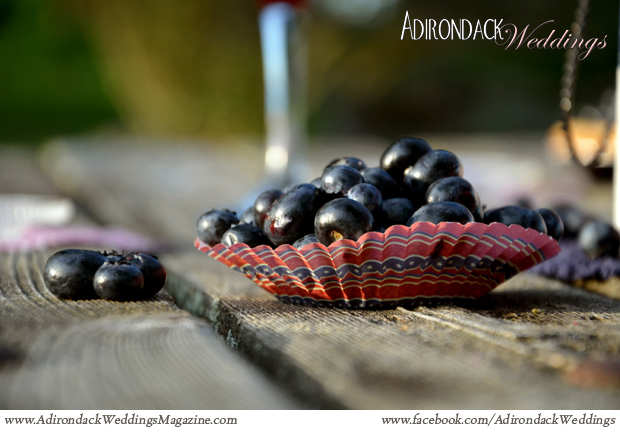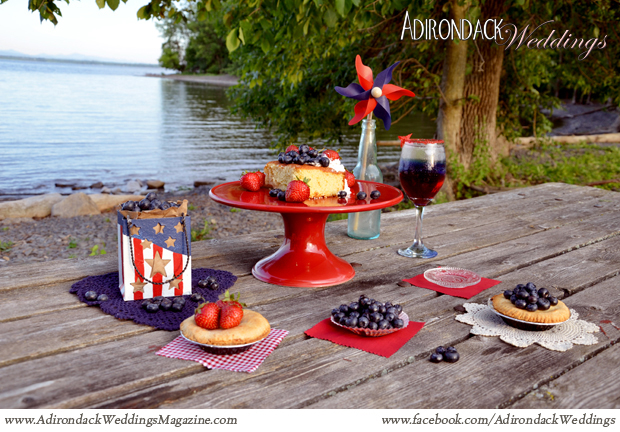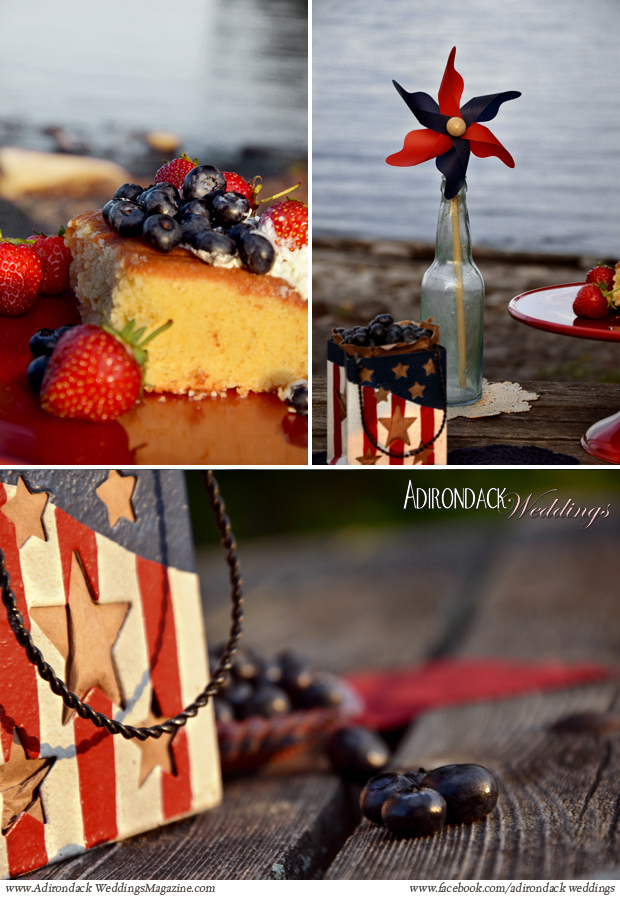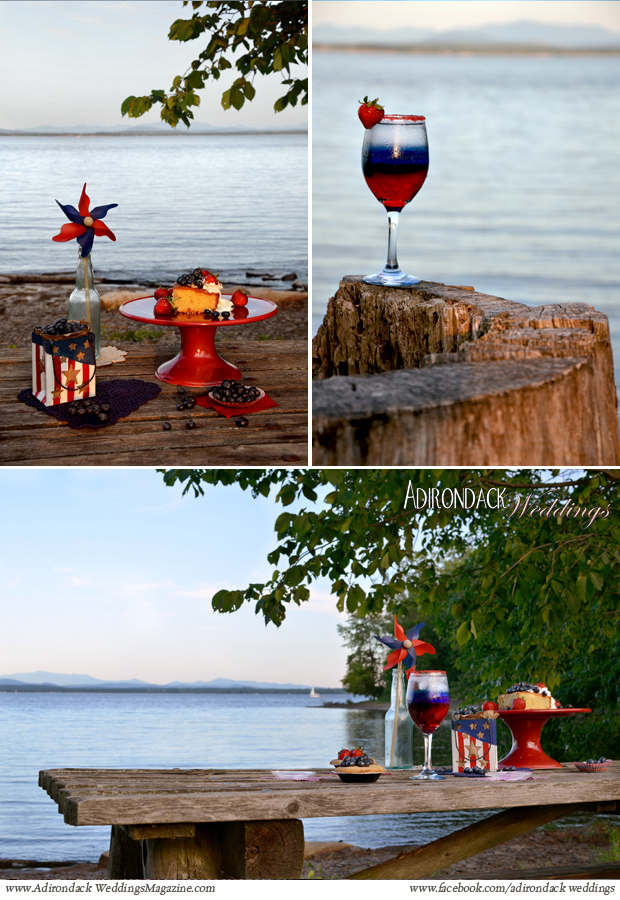 Most of the décor seen in this shoot was purchased at one of our favorite shops, the Cause for Paws Thrift Store at 89 Bridge Street in Plattsburgh. We love finding treasures here because all proceeds go directly to the Adirondack Humane Society. On a visit last week, we snagged several doilies ($1 each), eagle emblem plates (two for $5), and a candle lantern/ blueberry container ($3). Scoring vintage finds while helping animals in need? Yes, please! And now onto the recipes.


Stars & Stripes Cocktail
Sip the sweet taste of liberty with this decorative drink inspired by the grand ol' flag. Photos of non-alcoholic layered drinks have been floating around social media lately, bringing to mind an important question: can they be spiked? As we discovered, the answer is yes!
The layers in this festive brew stay separated because they are added in order of what's known as the "specific gravity" of each liquid. In general, sugar content will make a liquid heavier, while alcohol will make a drink lighter. Therefore, start with the most sugar-laden (heaviest) layer to start, add a layer with a moderate amount of sugar, then top off with a low-or-no sugar beverage. At Adirondack Weddings, we encourage our readers to drink responsibly, and just as importantly, aesthetically. With a steady hand and a little knowledge of science, you can layer a drink in any variety of colors. After much trial and error, this was our favorite Fourth of July combination.
Bottom layer
1 Oz. Grenadine (Specific Gravity of 1.29)
½ Oz. Cranberry Juice (Specific Gravity of 1.03)
Middle layer
1 ½ Oz. Blue Curacao (Specific Gravity of 1.13)
Top layer
1 Oz. diet Vanilla soda (Specific Gravity of 1.0)
½ Oz. Vanilla Vodka (Specific Gravity of 0.98)
Garnish
Red-colored sugar and fresh strawberries
Directions:
1. Moisten the rim of your glass with a little grenadine and dip it into the colored sugar.
2. Place a generous layer of ice into your glass, being careful not to disturb the freshly-sugared rim.
3. Premix the grenadine with cranberry juice or a red-colored sugary soda. Stir until well blended.
4. Create the drink by pouring each layer slowly. Aim for the ice in the glass instead of the liquid. Hitting the ice first will help each layer float above the one below it.
5. For extra flair, cut a strawberry into a star shape and slide it onto the rim of the glass.
Can't you just taste the freedom?
---
Patriotic Cream Cheese & Cinnamon Pound Cake
This sumptuous treat is a feast not only for the taste palate, but also for the color palette. Freshly whipped cream and locally-grown Adirondack berries form a patriotic display of red, white, and blue. The addition of cream cheese and cinnamon into the recipe creates moistness and a rich, homemade flavor.
Ingredients:
1 1/2 cups (3 sticks) butter, softened
8 ounces of cream cheese, softened
3 cups granulated white sugar
6 large eggs
3 cups cake flour, sifted
pinch of salt
1 tablespoon of cinnamon
1 teaspoon of vanilla extract
1 teaspoon of almond extract
Directions:
1. Preheat oven to 325 degrees. Use cooking spray to grease a 9 x 13-inch baking dish and sprinkle it with all-purpose flour.
2. Using an electric mixer, blend the cream cheese and butter together in a large mixing bowl. Slowly add sugar to the mix, continuing to blend until fluffy.
3. Blend in the salt, cinnamon, and both extracts.
4. Add eggs into the mixture one at a time, mixing each until well blended.
5. Add the flour slowly, beating the mixture until completely blended.
6. Pour the batter into the baking dish, then tap the dish against the counter a few times to remove air pockets from the batter.
7. Place the pan on the top rack of the oven and bake for about 1.5 hours. When a toothpick stuck in the center comes out clean, your cake is done! Cool the cake completely before serving.
8. Garnish with whipped cream and berries of your choice.
Wishing all a safe and happy holiday! If you try these recipes, let us know in the comments. Cheers!