What to do when unseasonably warm weather and Easter collide in the Adirondacks? Create an Easter-themed ice cream treat! We are so excited that temperatures have finally risen — it was nearly 80 degrees outside our Plattsburgh office on Monday! While weather this warm probably won't stick, even temperatures in the 50s feel tropical after our long, often subzero winter. Time to break out the ice cream, we say! Although this classic treat is great any time of the year, what better way to welcome spring (or for some of us, celebrate the end of Lenten fasts) than with a sweet, chocolatey delight? These ultra-creamy fudge pops feature a grown-up kick with the addition of a cup of coffee and can be prepared in about half the time of other ice pop recipes, which often rely on stove-heating. You and your betrothed can whip these festive treats together in a snap!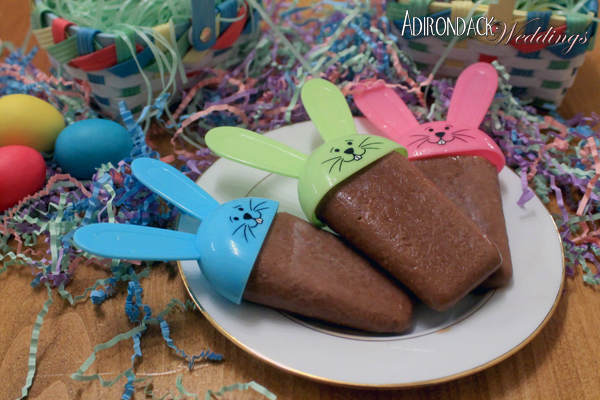 Ingredients:
1 package of instant chocolate pudding mix
½ cup sugar (optional)
1 tsp. vanilla
1 12 oz. can of evaporated milk
1 cup of milk
1 cup of your favorite coffee
Makes approx. 10 – 12 pops (using a standard pop mold)
Steps:
1. Using your kitchen mixer with the whisk attachment (or in a large mixing bowl, using a whisk), stir together pudding mix and evaporated milk, adding the evaporated milk slowly to avoid clumps. Once combined, stir in remaining ingredients until smooth.
2. Pour into ice pop molds or Dixie cups and freeze at least 4 hours. If using Dixie cups, insert a popsicle stick when the pops are firm but not yet completely frozen.
The evaporated milk gives the pops creaminess, meaning they will stay a little soft and chewy after they freeze. Release them from your molds by running them under warm water for a few seconds and wiggle them out of place gently, being careful not to pull the sticks out. Happy Easter!
— Story and photo by Elizabeth Piseczny