We couldn't resist putting our own spin on one of the cutest new trends in holiday baking: "Santa Hat" brownies! These festive treats are perfect to make with your loved one this holiday season. Be ambitious and try our from-scratch recipe, or for a quicker and easier path to deliciousness, substitute your favorite boxed brownie mix. Either way, these chocolatey morsels are sure to be an adorable addition to your holiday festivities.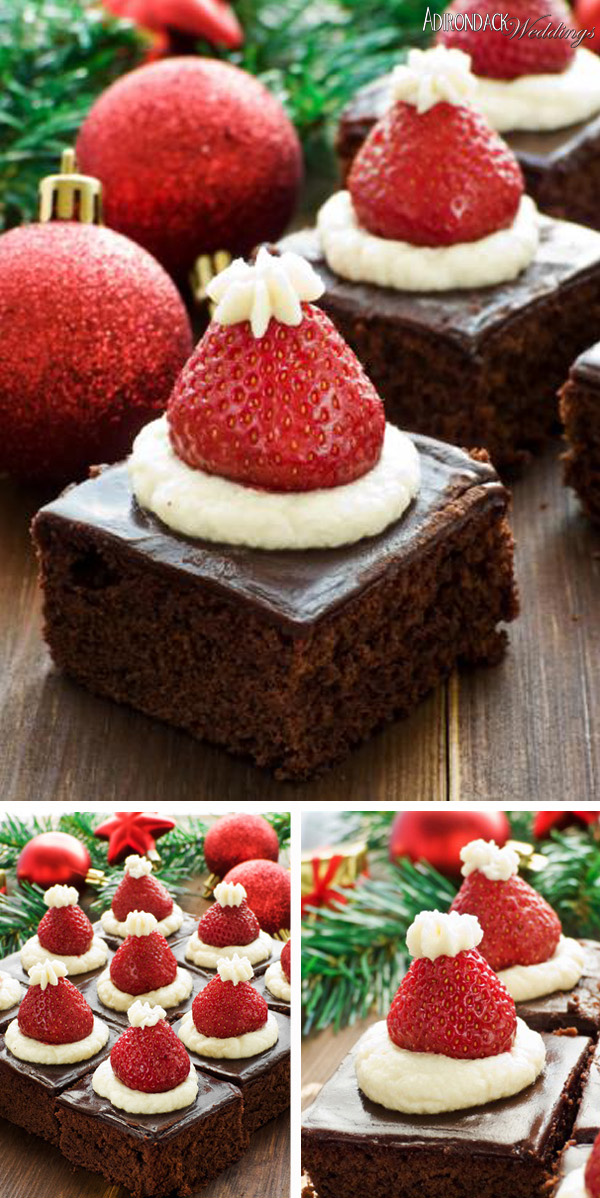 Recipe yields 24-36 fudge-topped brownies/Santa hats
Ingredients for the fudge-topped brownies:
• 1 Cup (2 sticks) of butter or margarine, melted
• 1 Cup all-purpose flour
• ½ teaspoon baking powder
• ½ Cup milk
• 1 Cup chopped nuts (optional)
• 1 (14 oz.) can sweetened condensed milk (not evaporated milk)
• 2 Cups sugar
• 2/3 Cup cocoa powder
• 2 eggs
• 3 teaspoons vanilla extract (divide each teaspoon separately)
• 2 Cups (or 12-oz. package) of dark chocolate or semi-sweet chocolate chips
Ingredients for the Santa hat:
• 24-36 (amount of brownies you have) strawberries
• 2 cups white chocolate chips
Directions for the fudge topped brownies:
1. Preheat oven to 350 degrees.
2. Grease a 13×9-inch baking pan.
3. Stir together butter, sugar, flour, cocoa, baking powder, eggs, milk, and 1½ teaspoons vanilla extract in large mixing bowl; beat well. Stir in nuts, if using.
4. Spread batter in prepared pan.
5. Bake for 40-45 minutes, or until brownies begin to pull away from sides of pan. Just before brownies are done, in heavy saucepan, melt chocolate chips with sweetened condensed milk and remaining 1½ teaspoons vanilla extract.
6. Immediately spread hot fudge over warm brownies. Cool in pan on wire rack. Refrigerate and then cut into squares.
Directions for the Santa Hat:
1. Clean strawberries and cut off leafy stems with a knife.
2. Place strawberries upside down on brownies.
3. Melt white chocolate chips in a double boiler and transfer into a piping bag.
4. Pipe a ring around the base and a small dot on top (work quickly, the white chocolate can dry fast and clog up your tip!).
Nothing says "holiday season" like baking sweet desserts with your loved ones. Make them for a Christmas-themed wedding, or simply as an after-dinner treat for two. Light some seasonally-scented candles, put on your favorite Christmas album, and enjoy!
— Story by Anne Rathe