There are so many varieties of beautiful flowers, making it difficult to choose which blooms to incorporate into your wedding. Finding flowers that fit a certain theme or color palette can add another layer of complication. Fortunately, if you're planning any manner of rustic wedding, wildflowers are a great choice. Here in the Adirondacks, many beautiful varieties of wildflowers can be found, both in nature, and often at your favorite florist. Best yet, each flower has its own meaning that you can use to build a floralscape with significance as well as beauty.
Phlox

Where it grows: Open woodlands, fields, gardens
Best used for: Bouquets, boutonnieres, table arrangements
Phlox isn't a traditional wedding flower, which makes it a unique choice for a country-inspired wedding, and it grows right here in the Adirondacks. The meaning of phlox is "our souls are united," a sentiment perfect for weddings. This prolific bloom comes in colors including white, red, pink and lavender.
Baby's Breath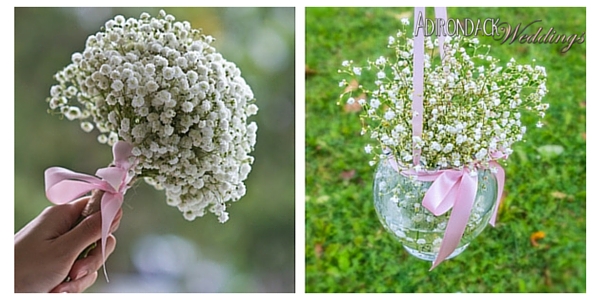 Where it grows: Open fields, gardens
Best used for: Bouquets, table arrangements, boutonnieres, hairstyles
Baby's breath is a versatile flower that comes in many different varieties and colors of white or pale pink. Baby's breath means "everlasting and undying love," "pureness and innocence," "self discipline," and "the ability to stay focused." Baby's breath has been a wedding bouquet staple for years, but don't let its popularity dissuade you; classic flowers can be used in new and creative ways, such as to decorate a place setting or wedding signage.
Balloon Flowers

Where it grows: Gardens
Best used for: Table arrangements, large arrangements
Balloon Flowers are less traditional, but just as beautiful as more popular flowers, and grow in shades of pink, blue, and white. Their star shape would look lovely on a corsage for a mother or grandmother. The meaning of this flower is "endless love" and "honesty." Because this is a larger bloom, consider incorporating balloon flowers into bigger arrangements that will showcase them without overpowering smaller flowers.
Coreopsis Flowers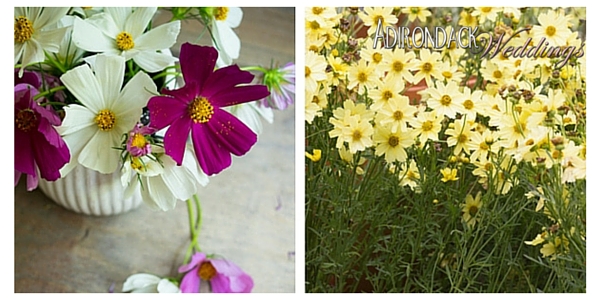 Where it grows: Gardens
Best used for: Boutonnieres, flower girls' baskets
These blooms, which mean "always cheerful," have wide petals with yellow centers. They grow in yellow, hot pink, white, orange, and gold. These dainty flowers would look lovely woven into the braid of a flower girl's hair, in her basket, or on the pillow of a ring bearer.
Dianthus Flowers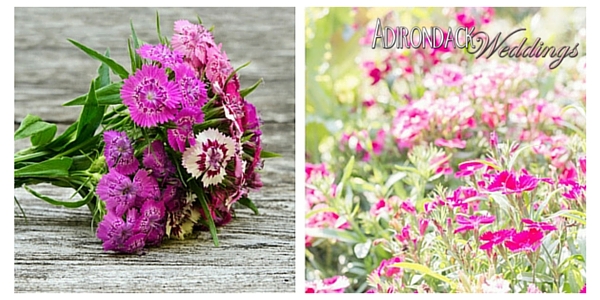 Where it grows: Gardens
Best used for: Table arrangements, bouquets
Dianthus, a unique flower with a tie-dyed type of look, simply means "love." This flower, which also goes by the name of Sweet Williams, grows in red, purple, white, and pink.
Forget-Me-Nots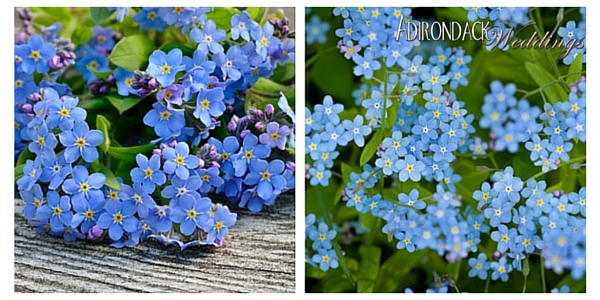 Where it grows: Streambeds, wet woodlands, gardens
Best used for: Boutonnieres, large arrangements, table arrangements
Forget-Me-Nots are tiny flowers that look great as filler mixed in with larger blooms. These delicate blooms, which grow in magenta, rose, pink, white, and blue, mean "youthful love," making them very fitting for many weddings.
Lilacs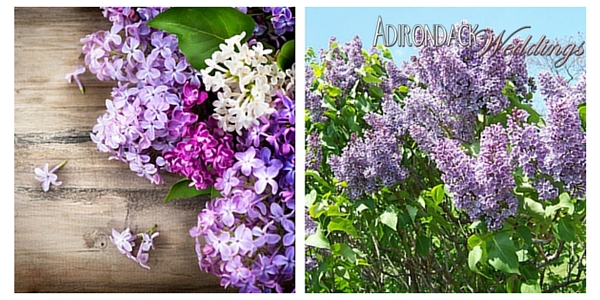 Where it grows: Gardens
Best used for: Large arrangements, table arrangements
For many, lilacs are synonymous with spring, perhaps even bringing back memories of childhood, when the sweet scent of lilacs in the air meant warm days ahead and the end of a long Adirondack winter. Lilacs come in a range of colors including white, violet, blue, lavender, pink, magenta, and purple. These flowers mean "first love," making it the perfect choice for childhood sweethearts, or couples who found each other again after years apart.
Peonies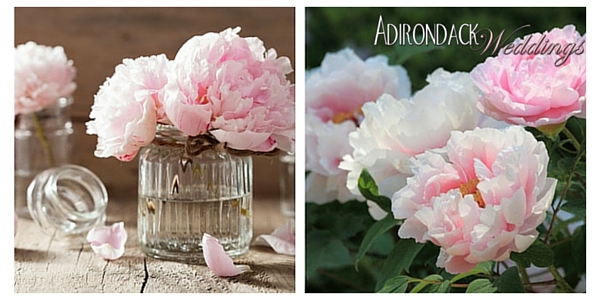 Where it grows: Gardens
Best used for: Bouquets, table arrangements, large arrangements
Peonies, garden flowers that can grow wild, are a popular wedding choice because they are big, stable blooms that help to fill out arrangements. Peonies, which can be found in pink, white, red, and coral, mean "happy marriage" and "compassion."
Primroses

Where it grows: Open woods, gardens
Best used for: Table arrangements
Primroses are petite flowers that grow in white, cream, yellow, orange, red, pink, purple, and blue. With all of these colors, they are a flower that could be incorporated into just about any theme or color scheme. Primroses mean "I can't live without you," another appropriate sentiment for a happy union. Too add a woodsy look to your reception table, add a centerpiece of primroses in clay pots. This rustic addition to your decor could be gifted to guests to care for after the wedding.
We hope that these beautiful flowers that grow here in the Adirondacks give you some great ideas about what flowers to use in your wedding. And if you have enough time before your big day, maybe consider even growing them yourself! Next week we'll have part two of these local flowers and their meanings for you.
- Story by Anna Keeler